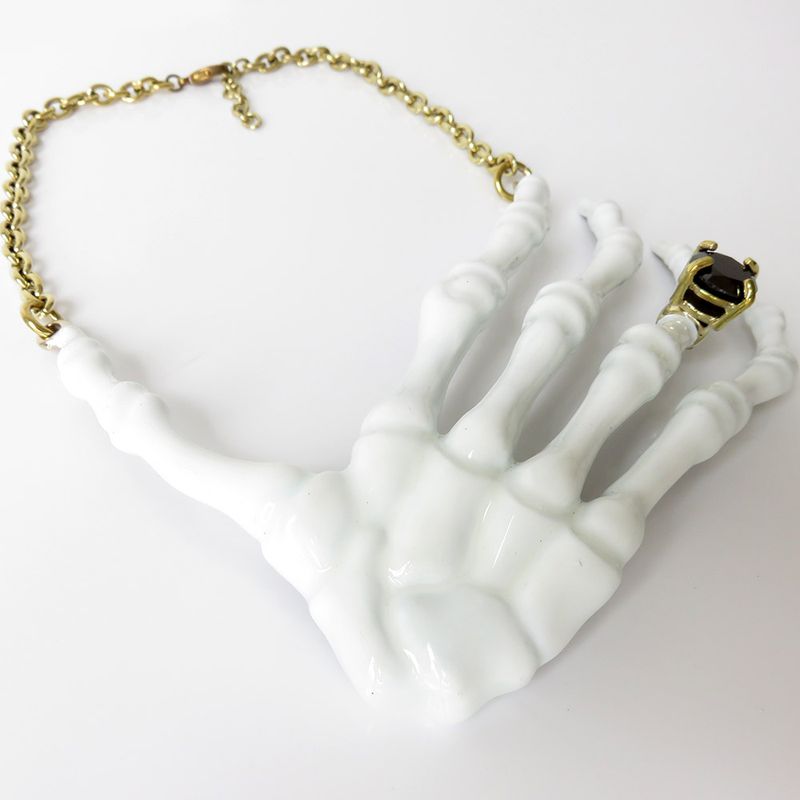 White Skeleton Hand Necklace
A luxury brass and white enamel Skeleton necklace. High gloss, black enamelled human hand with a zirconia stone ring set on the finger of this ancient relic. Inspired by the bejewelled dead Saint skeletons found in the Catacombes of the Vatican City of Rome, Italy.
£77.00 GBP
About Us: Established 2000
South East London-based alternative jewellery boutique Galibardy.com design and curate a range of macabre unisex jewellery. Starting out in London's buzzing Brick Lane – a hub of fresh creative talent – Galibardy decided to create a jewellery collection focussing on an array of cat charms and rings, vintage brass taxidermy animal skeleton pendants, old school vintage pistols, silver skull rings and amazingly detailed Mexican sugar skull pendants sitting alongside brass skeleton bangles and enamelled skeleton hand chokers. Loved on the Worldwide alternative, underground scenes, their handmade street style, brass and Sterling 925 silver accessories have also received acclaim from a number of renowned magazine titles including French Elle, Nylon and Italian Vogue. Celebrities supporting and wearing Galibardy include, Cate Blanchett, Will.i.am, Mary J Blige, Jessie J, Rita Ora, Paloma Faith, Kelly Rowland, Pixie Lott, Lindsay Lohan, Eve, Donaeo, Fearne Cotton and Nicole Scherzinger.
An item of Galibardy is the perfect luxury jewellery gift for yourself or any alternative jewellery lover.